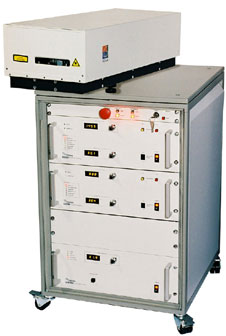 Pulsed RGB and Multi-Wavelength Lasers
The RGB and Multi-wavelength are single oscillator Nd:YAG/Nd:YLF lasers producing emissions in the nanosecond regime.
The lasers produce TEM00 near-diffraction limited radiation at a variety of energies, wavelengths and repetition rates. Single Longitudinal Mode operation is provided with a built-in SLM option. Design features include highly stable passive or electro-optically Q-switched ring-cavity oscillators and harmonic generation. Fundamental lasing is at either 1047, 1053 or 1064 nm and at 1313, 1319, 1321 or 1338 nm. The IRRB laser series emits in the deep IR, Red and Blue wavelengths simultaneously (or separately upon request). The IRRGB laser series delivers pulses at 5 wavelengths simultaneously in the deep IR, IR, Red, Green and Blue (or separately upon request).
Below are listed the most popular standard laser configurations. In addition to these models custom lasers are available that cover a large parameter space.
IR-Red-Blue
Nd:YAG or Nd:YLF Lasers
IRRB-1319
Parameter
Output Wavelength1
1319nm/ 659nm/ 440nm
Max Output Energy2
20mJ/ 4mJ/ 3mJ
Shot-to-Shot Energy Stability3
±3%/ ±4.5%/ ±5.5%
Pulse width (FWHM)
47ns/ 42ns/ 40ns
Beam Diameter (1/e2)
< 5 mm
Beam Divergence
Near Diffraction Limit
Linewidth4
< 0.001 cm-1
Repetition Rate
5/10/15/20/30 Hz
Spatial profile
TEM00

Laser Head Size

770 x 280 x 180 mm
Resonator Base Plate
Al-alloy
Q-switching
Passive or EO
Flash Tube Lifetime
>107 shots
Advised Operating Temperature
19 - 21 oC
Powering
220 V, 1 or 3 phase
Warranty Period
12 months
1Upon request other wavelengths are available:
IRRB-1338 Model: 1338 nm, 669 nm, 446 nm
IRRB-1313 Model: 1313 nm, 657 nm, 438 nm
Multi-Wavelength
Nd:YAG or Nd:YLF Lasers

IRRGB-1953
Parameter
Output Wavelength*
1319nm/ 1053nm/ 659nm/ 527nm/ 440 nm
Max Output Energy2
20mJ/ 20mJ/ 4mJ/ 5mJ/ 3mJ
Shot-to-Shot Energy Stability3
±3%/ ±2%/ ±4.5%/ ±4%/ ±5.5%
Pulse width (FWHM)
47ns/ 45ns/ 42ns/ 41ns/ 40ns
Beam Diameter (1/e2)
< 5 mm
Beam Divergence
Near Diffraction Limit
Linewidth4
< 0.001 cm-1
Repetition Rate
5/10/15/20/30 Hz
Spatial profile
TEM00

Laser Head Size

770 x 280 x 180 mm
Resonator Base Plate
Al-alloy
Q-switching
Passive or EO
Flash Tube Lifetime
>107 shots
Advised Operating Temperature
19 - 21 oC
Powering
220 V, 1 or 3 phase
Warranty Period
12 months
*Upon request other wavelengths are available:
IRRGB-3853 Model: 1338 nm, 1053 nm, 669 nm, 527 nm, 446 nm;
IRRGB-1353 Model: 1313 nm, 1053 nm, 657 nm, 527 nm, 438 nm;
IRRGB-3847 Model: 1338 nm, 1047 nm, 669 nm, 524 nm, 446 nm;
IRRGB-1964 Model: 1319 nm, 1064 nm, 659 nm, 532 nm, 440 nm;
IRRGB-1947 Model: 1319 nm, 1047 nm, 659 nm, 524 nm, 440 nm